Research at Our Department
A distinctive feature of the research undertaken at the Department of Theater and Film Studies is the interdisciplinarity. Spanning not only the firmly established fields of film, theatre, television, radio, and literary studies but also over the manifold areas that give them both theoretical and analytical vitality – such as media industry studies, festival studies, performance and dance studies, media philosophy, gender and queer theory, sound studies, new media ethics and copyright – the majority of our research activities engages in the mutual dialogue between various scholarly discourses. Consequently, our innovative research projects shift from the traditionally conceived screen media, plays, and productions or isolated artworks, toward the more challenging transmedia practices and cultural frameworks. Moreover, we aim to do this without neglecting their formal analysis, historical study, and social context.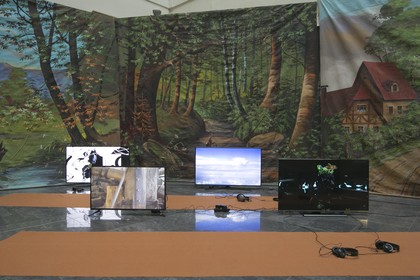 Topics
Embracing an expansive vision of media and performance studies, our research on both the contemporary and historical cultural landscape includes various topics such as film audiences and television genres; screenwriting practices; the classical Hollywood studio era; stylistic and narrative experiments of the Czech New Wave; music video's post-media and affective aesthetics; queer representation in contemporary Central European, American, and British film and TV fiction; online interfaces, apps, and VoD curatorial strategies; theatrical and performative cultures of classical antiquity and medieval Europe; radio documentaries and podcasts; scenography and visuality in the avant-garde theatre, or the utopian space of socialist performances.
International Projects abd Collaboration
Between 2012 and 2015, some of our department members led a research team for the international project Representing the Past: New Methods of History Interpretation in Arts and Media, funded by the European Social Fund. Directed by the renowned film historian, prof. Ian Christie (Birkbeck, University of London), the project comprised of literary, film, and media scholars as well as historians, social, and political scientists with a general aim of implementing new methodologies for the study of media representations and performances. To this end, we managed to organize the dynamic interdisciplinary conference "Uses, Abuses, and Inventions: Where Is History Today?" in March 2014, and a dozen lecture series featuring leading media scholars such as Robert Rosenstone, Laura Mulvey, Roger Odin, and Jane Gaines, all of whom helped us relate the research done at the department to the most up-to-date issues explored in the field.
In addition, we recently joined the Horizon Europe call for supervisors and hence are seeking talented and ambitious postdoctoral researchers to jointly submit proposals for the European and Global Marie Sklodowska-Curie postdoctoral fellowships (MSCA – PF) within the following research areas:
Audiovisual aesthetics and media practices of music video
Cultural affect theory in dialogue with modern literature, cinema, and contemporary arts
Intermedia relations between modern literature and the visual arts
Afterlives of underground culture in post-socialist Central and Eastern Europe
Television and Radio Studies
The program invites students to engage both theoretically and practically with the field through a series of core courses in media theory, history of broadcasting, TV seriality, music video aesthetics, and both regional and global audiovisual practices. More specifically, our teaching and research involve the areas of inquiry such as:
TV and radio genres and formats
Media ethics and philosophy
History of media technologies and institutions
Media market, law, and cultural industries (global, regional, and national)
Identity politics and representation in contemporary Central European, American, and British TV fiction
Crime fiction series and reality shows
Audio-documentary and podcast production
Audiovisual aesthetics and intermedia practices of music video
Online interfaces, TV and radio apps, and VoD
TV branding and contemporary TV trends
Cultural affect theory in dialogue with modern literature, cinema, and contemporary arts
Being well aware of the fact that in order to carry out socially relevant research one also needs to look beyond academia and keep in touch with the actual media culture, policies, and industries, we also organize practice-based courses such as Festival Production, collaborate with the university radio UP Air, and our graduate students work as the main organizers of the international festival AFO. Members of TV and Radio Studies program also manage a regular TV focused program section at Summer Film School Uherské Hradiště, a film festival focusing on educating broad public in cinema and audiovisual history and contemporary trends. Currently – and in close cooperation with the leading Central European audio documentarists and our PhD students, Brit Jensen and Jiří Slavičínský – our Television and Radio Studies section prepares the Centre for the Audio Research and Production (CARP) whose aim is to provide a new creative hub for audio productions, knowledge sharing, and development of the genre.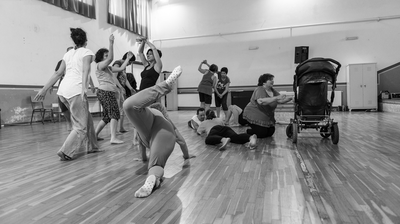 The Theater Studies program consists of courses in theatre and performance history and theory, and specialized courses in dance theatre and theatre as a cultural model. In the former, emphasis is put especially on the conceptual dance, non-dance, and other trends in current choreography, as well as the practices of reenactment; in the latter, students are encouraged to explore performative and theatrical aspects of events outside institutionalized theatre, e.g., in political rallies in the 20th and 21st centuries, as well as in Church ceremonies in the Middle Ages. The teaching and research of the "theatre beyond the stage" are housed in the Performance and Performativity Research Centre. Established in 2018 at Masaryk University, it was transferred to the Palacký University in 2021 and is currently directed by Lukáš Kubina. A scholarly and educational hub for interdisciplinary research of performance and theatricality, the Centre has launched and coordinated organization of workshops, scholarly publications, and a summer school in collaboration with specialists in sociology, political science, religion studies, law, and other disciplines, as well as with Czech and Slovak theatre and performance artists.
Research in the Theater Studies program is organized predominantly around the concepts of corporeality and intermediality. We research corporeality and mediality especially in conceptual dance, non-dance, and other practices of reenactment; our focus is, among other issues, on the relationship between body and memory, archive, and cultural repertoires. We see intermediality and media hybridity as principles inherent to any medium and believe that to study theatre and performance as (inter)medium inevitably demands a relational approach.
Over the last three decades, we have developed a mutually beneficial symbiosis in teaching theoretical and practice-oriented courses which influenced our research. We educate our students in film theories and we encourage the cultivation of scholarly thinking within film studies. To understand film means to discover the different facets of it. Therefore, we follow the tradition of new film history and combine various approaches dealing with areas such as production system, ideology, dramaturgy, archival research, personal memories, film stars, genres, etc. Research in culture and creative industries has a basis in practical experience because we participate in the organization of film festivals.
We are currently working on research in the following areas:
Film dramaturgy in Czechoslovakia
Ideological patterns of Czech cinema
Czech film adaptations
Classical Hollywood cinema between 1930s and 1950s
Construction of star images of contemporary Irish actors
Animated fantasy films
Czech crime fiction
Culture and creative industries
Theory and History of Theatre, Film, Radio, and Television is a four-year PhD program that offers a theoretically rigorous engagement with the fields of media and performance studies, aesthetics, and audiovisual culture. The program approaches the study of different media as multi-faceted and ever-changing phenomena which play a vital role in contemporary digital culture. In addition to support in conducting their own research projects and supervised in writing their theses, PhD students are encouraged to develop their publication skills, to present their findings at the international conferences, and to apply for the research fellowships abroad.
In 2019, we also launched a new PhD program, entitled Cultural Industry Studies whose aim is to provide students with the key knowledge and skills in the various areas of cultural and creative industries such as film and TV industry, the gaming industry, performance arts, music industry, and the curating of visual arts. Along with the production, distribution, exhibition and consumption practices, the emphasis is also put on research of specific cultural politics, and their legal and ethical aspects.
PhD Students and their Research Projects
Brit Jensen
Audio Documentary Practices: Media Anthropology of the Voice
An examination of the research, recording, and productions practices of European audio documentary makers with a special focus on questions evolving around voice. How do audio documentary producers navigate in an activity where they are at once giving, taking, and mediating voice? And what are the media, aesthetic, and ethical implications of such practices?
Supervisor: doc. Tomáš Jirsa, Ph.D.

Barbora Hermanová
Cultural Status and Prestige in the Current Czech Television
The aim of my dissertation is to theoretically reflect and analyse the practices of cultural status and prestige in the current Czech television production, circulation, and reception. My research focuses on the circulation of prestige among various awards (including both the awarding institutions and the winners and nominees), creators, distributors, and audiences, and its influence on the trends in TV production, or lack a thereof.
Supervisor: Mgr. et Mgr. Jana Jedličková, Ph.D.

Jiří Slavičínský
Landscape Documentaries: Sound Representation of Space and its Memory
I am interested in how location-based audio can represent the experience of people dwelling in a particular place. To do this I want to analyse some already existing landscape documentaries as well as reflect on my own documentary-making practice. My understanding of landscape documentaries is inspired by the concepts of interpretative anthropology, artistic research, and media archaeology.
Supervisor: doc. Andrea Hanáčková, Ph.D.

Ondřej Kazík
In between Cinema Theatre and Internet: Distribution Cultures and Documentary Cinema in the Czech Republic
Using ethnographic methods, this research presents case studies of Czech distribution cultures and their approach to documentary film distribution. My approach draws on the tradition of critical media industry studies and production studies and its focus on the critical analysis of
industrial structures, processes, and practices of media workers in the age of digital disruption and ever-changing market (not only) due to Covid-19 pandemics.
Supervisor: doc. Mgr. Pavel Zahrádka, Ph.D.

Klára Feikusová
Cultural Hierarchies in the Academic Discourse of the Concept of Cinematization of Television
The research project focuses on cultural hierarchies in the academic discourse of the theoretical concept of the cinematization of television, which describes the ways in which film influences television, especially from an aesthetic point of view. Using critical discursive analysis, I explore and highlight what evaluative subtexts persist in the discourse and what this says about the current cultural state of television and television studies.
Supervisor: Mgr. et Mgr. Jana Jedličková, Ph.D.

Kateřina Hloušková
From Colleen to Sexy Irishman: Transformation of Irish Stardom from 2001 up to the present
The dissertation focuses on the construction of star images of contemporary Irish actors and how it relates to the concept of Irishness. Its main methodological approach is derived from star studies and theories dealing with Irishness, typification of Irish fictional characters and its influence on star images. The series of case studies should show the various forms of contemporary Irishness and whether/how the stereotypical view of this concept manifests itself in the actors' careers.
Supervisor: Mgr. Milan Hain, Ph.D.

Radoslav Horák
Czech Film Adaptations from 1985 to 1995
My research is focused on Czech film adaptations in the crucial period of Czech history: the Velvet revolution and surrounding years 1985–1995. Political transformation brought by the fall of communism caused changes in the social, economic, and cultural spheres. I want to find out how these changes influenced the practice of adapters, especially their selection of topics for adaptation.
Supervisor: doc. Mgr. Luboš Ptáček, Ph.D.

Barbora Kaplánková
Gender in Fantasy Franchises of 2000-2020: Depiction of Masculinity and Femininity according to the Theory of Performative Gender by Judith Butler
In terms of exploring the topic of gender, fantasy presents a unique platform due to its high inner variability and the potential to challenge the "real" and its "rules". The aim of this dissertation is to offer a comprehensive image of how masculinity and femininity are depicted in mainstream fantasy film of the last twenty years, which are characterized by the significant success of several franchises, each belonging to a different fantasy subgenre with specific worldbuilding and possibilities for subversion of heteronormative systems. Selected groups of characters from these franchises are approached through analytical-interpretative method built on works of Judith Butler and Brian Attebery.
Supervisor: doc. Mgr. Luboš Ptáček, Ph.D.

Barbora Liška
Dramaturgy in the Contemporary Body-based Artworks
The aim of my research is to organize and sum up the current thinking about dramaturgy in contemporary body-based artworks. In particular, I try to identify the current tendencies in contemporary dance dramaturgy, using examples of concrete performers and groups from the Czech Republic and abroad.
Supervisor: Mgr. Jitka Pavlišová, Ph.D.