The department is currently divided into three sub-departments: Theatre Studies, Film Studies, and Television and Radio Studies. Each sub-department is responsible for tuition in its relevant subject area, the implementation of its own research projects and organization of conferences connected to its field of study. A great advantage of the department for both study and the overall student experience is the ease with which the available fields of study can be combined. Combining disciplines enables interdisciplinary lectures and seminars, joint projects, and the participation of lecturers and students in festivals and conferences. All sub-departments place great emphasis on the practical skills and workplace readiness of students. Leadership of the department is handled by the Head and the Deputy Head, while the Department Assistant is in charge of administrative and operational matters.
The Theatre Studies sub-department emphasizes the interdisciplinary nature of theatrology, with an emphasis on contemporary forms of theatre and performance. It provides education on the history of Czech and world theatre, with emphasis on the 19th and 20th centuries, while seminars focus on the analysis of theatre props, performance, dance and musical theatre etc. It develops a critical approach to theatre through various means, including via the student server divabaze.cz, co-organizes the 'Perspektivy teatrologie' (Perspectives in Theatrology) conference, and participates in the organization of theatre festivals (e.g. Divadelní Flora, K3 FEST). Another of the activities the sub-department is engaged in is the construction of the Documentation Centre, which offers archives of contemporary Moravian theatres as well as the Czech-German Theatre Fund for Moravia and Silesia.
The Film Studies sub-department focuses on the teaching of Czech and world film, the history of film theory, and conducts analytical seminars. Emphasis is placed primarily on interpretive approaches to film, filmmaker and genre theory as well as festival studies. Practical seminars are led by professionals from film production, film distribution companies and screenwriters, among others. The sub-department is involved in the organization of the international conference Screen Industries in East-Central Europe, is an institutional member of the Czech Association of Film Studies (České společnosti pro filmová studia - CEFS), assists in the organization of film festivals co-organized by the department (AFO, PAF, MFDF Jihlava, Noir Film Festival), and founded plus provides ongoing support for 25fps magazine.
Television and Radio Studies
This unique combination of two media fields offers insight into the function, history and criticism of television and radio. In addition to lectures from professionals in the fields of television and radio studies, the course focuses on topics such as the analysis of current television series, studies of audiences and fandom, and television/radio genres and formats. In practical seminars students prepare their own radio programmes and podcasts, collaborate in the production and dramaturgy of AFO and the Summer Film School in Uherské Hradiště. The sub-department organizes the Czech-Slovak Flow Conference: Radio and TV studies, shares in the organization of the international Prix Bohemia Radio festival, manages the professional web platforms TelevisionThinkTank and Radiodock.
Our doctoral students specialize in their chosen area of theatre or film and their interdisciplinary overlaps with television and radio. Doctoral studies last for three years and can be completed in either full-time or combined (long-distance) form. In addition to the study requirements, PhD students at our department provide assistance in organizing festivals, conferences, individually conducting seminars and participating in classes.
Combined studies at our department in the double-major programme Theatre Science - Film Science is chosen by a diverse group of people: students who need to combine work and studies; students who choose it to expand their knowledge while studying at another college; employed people who wish to improve their qualifications; and those interested in our field of study who wish to obtain a relevant bachelor's degree. Our combined studies courses accommodate both younger people between 20-30 years of age and middle-aged students.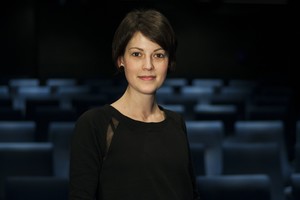 The Documentation Centre at our department serves as a research site for theatrical archive materials, a magazine reading room, library, doctoral student workspace, workspace with eyetracking equipment and a rest area for students.